IncPlan.net works with Start-Ups from all over the globe. We find it exciting to work with people who are pursuing their dreams with energy and success. The Start-Up Spotlight Profile series shares the stories of these dynamic achievers.
Dr. Romesh Wadhwani, the founder, Chairman and CEO of Symphony Technology Group, is a prime example of the self-made man. His estimated current net worth is $1.9 billion, putting him at #250 on the Forbes 400.  He is 65 years old and is married with one child.
Born in India, Wadhwani attended the Indian Institute of Technology in Bombay where he earned a Bachelor's degree in Electrical Engineering. He then came over to the United States in 1969 with not much more than his dreams and ambitious attitude, and earned his MS and Ph.D. degrees in electrical engineering at Carnegie Mellon.
The Early Beginnings
He started his entrepreneurial career as a campus junk food peddler, but quickly progressed on to found and chair Aspect Development, a business software firm, which he later sold to i2 Technologies. He then went on to become the founder, Chairman and CEO of Cimflex Teknowledge Corporation, which specializes in systems and products for computer-integrated manufacturing. He is currently with Symphony Technology Group, a $2.5 billion private equity technology group that invests in companies such as IBS, First Advantage, and Source Healthcare Analytics. His experience in enterprise software combined with his passionate personality for entrepreneurship has made him an leader in the research and developmental world.
Dedicated to Helping India through the The Wadhwani Foundation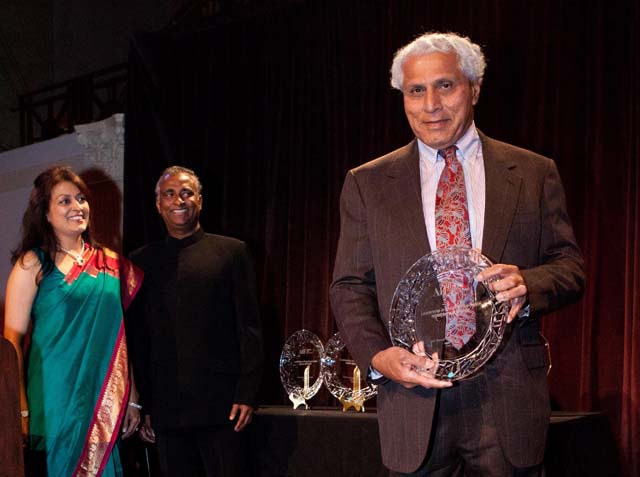 He is not only a successful businessman, but also a philanthropist. He is using his hard-earned fortune to help South Asian students reach their entrepreneurial goals through the Wadhwani Foundation. He has signed the Bill Gates and Warren Buffett Giving Pledge, dedicating 80% of his wealth to said foundation in order to benefit his country of origin. His foundation is unique in the sense that it donates money and effort. He supports career and entrepreneurial training programs, creating research centers, influencing US-India relations, generating opportunities for the disabled, and more. He is concerned about the large Indian population that cannot find work because of their lack of education, and strives to develop a network of colleges that will teach certain occupational skills to the drop-out community that would likely end up in the slums without his program.
Using His Wealth to Create Jobs
He also hopes to generate jobs, specifically in the fields of research and development. His National Entrepreneurship Network promotes entrepreneurship in South Asian schools, with this overall goal in mind. This program is present on 600 campuses and inspires thousands of students to form their own companies. Around 15,000-25,000 jobs have been created by said network already, and Wadhwani hopes to reach 100,000 in the next few years. His cardiac and biotechnology research centers in Bangalore and Mumbai are also helping to achieve his goal of job creation.
His Dreams Are Now His Reality
His success proves that, not only can you rise from the dust to achieve your dreams, but that being charitable does in fact pay off. His generous, yet economically savvy persona has served him well in the business world, and will hopefully continue to guide him through these tough economic times.
Sources Cited:
http://www.forbes.com/profile/romesh-t-wadhwani/
http://www.forbes.com/sites/ryanmac/2012/09/28/new-giving-pledge-member-romesh-wadhwani-promotes-entrepreneurship/
http://www.symphonytg.com/companies/ibs
http://www.symphonytg.com/people/dr-romesh-wadhwani